Tuesday, February 22, 2022, 1:35 p.m. – Plastic pollution threatens human health and the stability of Earth systems, which is why a global plastics treaty is needed, experts say.
Plastic pollution is found everywhere researchers look: from the most remote regions of Antarctica, at the summit of Mount Everest, to the deepest oceans. Researchers reported an average of 365 microplastic particles falling from the sky each day per square meter of land in a remote mountainous region.
"Microplastics are a new air pollutant… It's all kind of terrifying," said Deonie Allen, senior airborne microplastics researcher working at Eco-Lab at the Institut national polytechnique de Toulouse in France.
Millions of tons of discarded plastic bottles, food wrappers and bags break down into plastic micro and nanoparticles (MNPs). These are found in the air we breathe, the water we drink, the food we eat. Each of us could ingest a credit card-sized amount of microplastics every week, according to a study published in 2021.
Known and potential human health effects of ingesting MNP include:
The 59% decline in male fertility since 1973 has been linked to exposure to hormone-disrupting chemicals that are common in plastics.
Men with the highest concentrations of phthalate plasticizers in their urine were more likely to die of heart disease than those with lower levels.
People with inflammatory bowel disease (IBD) had 50% more plastic particles in their stool. These particles came from plastic bottles, food containers and packaging, according to a study.
Animal studies show that MNP disrupts gut function by altering gut microbiota, damaging cell membranes, impairing biological pathways, and more.
Plastics and associated chemicals pose a threat not only to human health but also to the integrity of the global ecosystem, warns an international panel of experts in a new study.
Yet plastics are new substances and their impacts on Earth systems remain largely unknown. The staggering volumes released into the environment – 370 million tonnes of new plastic are made each year, of which less than 10% is recycled and 12% incinerated – have "devastating effects on planetary health", said the co-author Bethanie Carney Almroth from the University of Gothenburg in Sweden.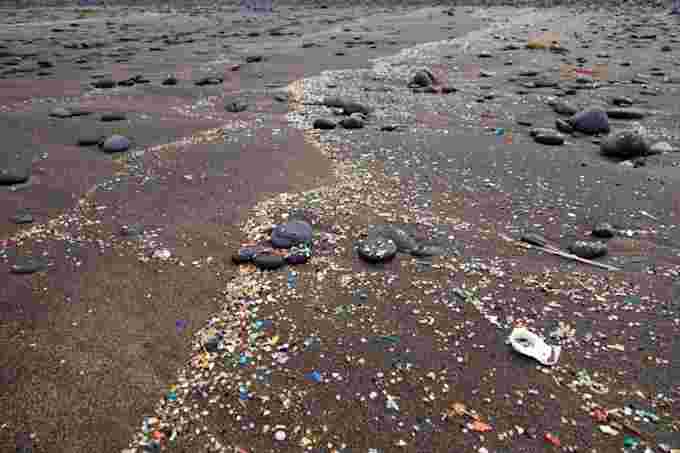 Microplastics washed up on a beach in Lanzarote, Canary Islands. (Westend61/Getty Images)
To address the growing threat of plastic pollution, more than 100 countries, including Canada and the United States, along with major corporations and environmental organizations are calling for a global treaty. The United Nations Environment Assembly conference in late February is expected to establish an international negotiating committee to draft such a global plastics treaty.
More than 70 leading companies and financial institutions, or three-quarters of UN member states, say they want a strong, legally binding treaty that will limit the amount of virgin plastic made and control the use of added toxic chemicals. However, major plastic-producing countries like Saudi Arabia and China currently prefer a waste management approach, according to media reports.
RELATED: These Ten Plastic Products Account For 75% Of All Trash In The Ocean
Canada supports a legally binding global agreement on plastics that "…takes a full life cycle approach to tackling plastic pollution" and is working with Ghana to begin treaty negotiations, the Office of the Minister of Plastics has said. Environment and Climate Change at The Weather Network.
A life-cycle approach is a key point, as some countries want the treaty to focus only on waste management. Despite the urgency and broad agreement, a new UN treaty will likely take a year or two to negotiate.
Canada is committed to producing zero plastic waste by 2030. Currently, Canadians throw away three million tonnes of plastic waste, of which less than 10% is recycled. Six common single-use plastic products often found in litter will be banned by the end of the year: plastic checkout bags, stir sticks, six-pack rings, cutlery, straws and catering utensils.