Dangerous heat waves are engulfing parts of China, Europe, the southwestern and central United States this week as dozens of cities grapple with soaring summer temperatures.
As of Tuesday afternoon, at least 86 Chinese cities in the east and south of the country had issued heat alerts. Chinese meteorologists predict temperatures in some cities will reach 40C (104F) in the next 24 hours.
In Shanghai, China's most populous city, authorities have told its 25 million people to prepare for unusually hot weather. Since record-keeping began in 1873, Shanghai has only experienced 15 days with temperatures above 40°C.
"It's too hot for July," said Wang Ying, 35, who lives in Shanghai. "My air conditioning has been running all day today and I don't dare go out at all, even on my balcony." She said she plans to work from home during the week.
Heatwave-related mortality quadrupled between 1990 and 2019, reaching 26,800 deaths in 2019, according to a Lancet study published in 2020. People aged 65 or over are at a 10.4% higher risk of dying during a heat wave, the study says. As a result, a number of Chinese cities are warning of the danger of such high temperatures for the elderly.
In the eastern city of Nanjing, one of China's three "furnaces" famous for its scorching summers, city authorities have since Sunday opened underground air-raid shelters to locals, complete with wifi-equipped war bunkers, books, water dispensers and even microwave ovens.
In Chongqing, another furnace city, the roof of one of its museums melted, the tiles of a traditional Chinese roof bursting as the heat dissolved the underlying tar. The city issued a red alert on Monday.
High temperatures, humidity and ultraviolet radiation are also expected to envelope the central city of Wuhan, the third furnace city.
Extreme weather no longer surprises those who follow climate trends in China, said Professor Faith Chan of the University of Nottingham in the eastern Chinese city of Ningbo. Last year, China was hit by massive floods.
"The reason for this year's heat wave is the two anticyclones, including the subtropical Western Pacific anticyclone coming from the sea and the one formed on the Persian plateau which moved to the Qinghai-Tibet plateau," said Chan.
In the United States, the southwest and central regions experienced extreme heat, with 42.2 ° C in Waco among more than a dozen daily temperature records broken over the weekend in cities in Texas, from Colorado, Oklahoma and Arkansas.
A "heat dome", an area of ​​high pressure trapping heat, was blamed for the peak of what was already a hot summer. Sweltering Texans in record temperatures and high humidity have been urged to save energy as the power grid struggles to keep up with increased demand.
Temperatures in Texas are expected to drop by the end of the week while rising in Arizona, hitting 45C in the state capital, Phoenix, on Friday.
In Europe, Spain is in the throes of its second heat wave of the summer, with temperatures in parts of the south and south-west expected to reach or exceed 44°C this week.
Rubén del Campo, spokesman for the state meteorological office, Aemet, said the heatwave, which started last Saturday, was expected to peak between Tuesday and Thursday but could stretch into next weekend.
"It will be an intense heat wave, and temperatures on the hottest days could reach or even exceed 44°C in the Guadiana and Guadalquivir valleys and in cities like Córdoba or Badajoz," Del Campo said, adding that the Ebro Valley and southern parts of the northwest region of Galicia could have temperatures of 42C.
As well as bringing a "very high risk of wildfires", he said, the heatwave meant nighttime temperatures in many places would be uncomfortably high.
"There will be hot tropical nights in parts of central, western and southern Spain, when the temperature does not drop below 25C," he said. "This means that when most people usually go to bed – between 10 p.m. and midnight – temperatures in some places could still be between 32°C and 34°C."
Del Campo said that while the heatwave was not on track to match the 26-day heat wave recorded in June and July 2015, nor the 16-day heat wave of late July and early August 2003, it could rival the waves of previous heat for third place.
Although the first official heat wave of the Spanish summer in mid-June brought temperatures up to 42°C, parts of Spain had seen soaring temperatures the previous month after the hottest May on record pushed the mercury above 40°C in some areas.
Spain recorded its highest temperature on record last August, 47.4C in the Andalusian town of Montoro. In May, Del Campo told El País that rising temperatures were a "direct and palpable effect [consequence] climate change… The climate in Spain is no longer the one we used to know. It got more extreme.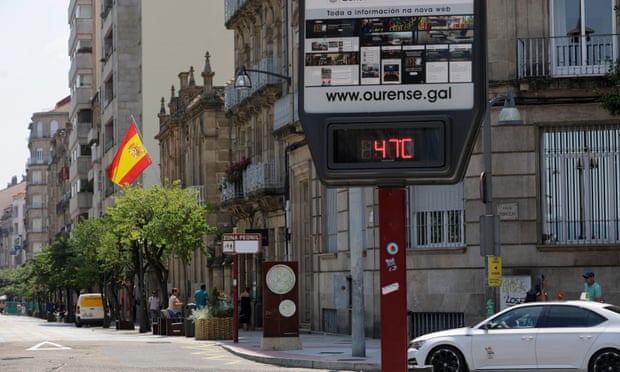 Across the border in Portugal, temperatures topped 44C last weekend, fueling wildfires, with vast clouds of smoke visible in the capital, Lisbon. Firefighters brought the largest blaze under control on Monday after it scorched swathes of the central municipality of Ourem, local officials said.
While temperatures calmed somewhat in Portugal on Monday, they are set to soar again in the coming days, with the forecast of 44C for the southeastern city of Evora.
"In the next few days we will experience conditions of maximum risk," Prime Minister António Costa said. "The slightest lack of vigilance could result in a fire of major proportions."
A warm air front began moving into France on Monday, with temperatures above 30C across much of the country, according to national meteorologist Météo-France.
He said temperatures on Tuesday could reach 39C in parts of France, adding the heatwave is expected to peak between Saturday and next Tuesday.
Additional Reuters reports